If you have never enjoyed the thrills of seeing Africa by safari, it's easy to assume that all safaris are one and the same.
However, there's a huge range of safaris on offer, with variations not just in destinations, but the type of accommodation and activities you will experience too.
Africa is a fascinating country and no matter what your age or level of fitness, there's a safari which you can enjoy. Here's a guide to some of the different things you might find. 
Types of accommodation
A safari offers the opportunity to get back to basics, and escape the trappings of fancy hotels, sleeping out under the starry skies. But this kind of holiday accommodation isn't for everyone so there are also safaris which offer more conventional sleeping arrangements too. 
For the wild at heart and adventurous, safaris which rely on mobile tented camps can be found all over Africa. This allows the group to set its own itinerary, moving on as and when needed. This is used for short safaris but is also perfect for longer treks as it provides more flexibility as well as being a once in a lifetime experience. 
Accommodation is an important aspect to consider.
Camps which are semi-permanent offer a good halfway choice between tents and hotels, having slightly more facilities and providing a greater degree of comfort. Usually much larger and set up in areas which are less remote, there's typically proper toilet facilities as well as hot and cold water.
If you don't fancy compromising your night-time comfort, there are game lodges and strategically placed hotels dotted all over the region. This allows you to have the best of both worlds, seeing the landscape and wild animals during the day, but relaxing in a soft bed when the sun sets.
Activities
Most people associate a safari with big game viewing but there's much more you could enjoy, either instead or as well as the traditional activities.
For big game viewing, some of the countries that offer the best opportunities are Kenya, Tanzania, Zambia, Uganda, Botswana, Namibia and South Africa.
Although you can never guarantee what animals you will see, these countries offer the most prolific opportunities to see the Big Five: lion, elephant, leopard, rhino and buffalo. There's plenty more you could see too such as zebra, giraffe, wildebeest, cheetah, hippo and maybe even a gorilla.
If you want a different experience, you could opt for a walking safari, or a foot trek. These types of tours are not for the faint hearted, even though you will be in the company of a professional guide. The terrain can vary and for full game-tracking can be demanding and rugged underfoot. A reasonable degree of fitness is therefore required. 
Away from the wildlife, there are plenty of cultural safaris too. Although they may also involve seeing the animals, you will also have the chance to visit local villages, getting to know the locals and seeing their way of life first hand. 
And if you are craving a bit of time relaxing on the beach, Africa offers some of the most stunning stretches of coastline where you can take the time to recharge your batteries between game drives. 
A safari for everyone
In the past safaris have been associated with adventurers seeking a high-octane adrenaline experience. 
Whilst this type of safari can certainly be offered, there's much more besides. 
Safaris are suitable for the whole family and even the needs of young children can be catered too whilst still enjoying all the sights. Your safari provider will be able to discuss with you what tours are suitable for children, or how to create a tailor-made experience for you and your family.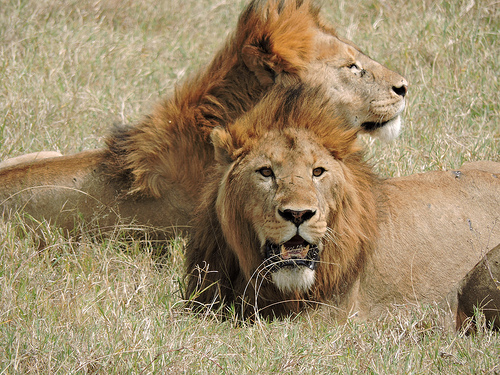 Safaris are being catered to a wide variety of people.
If you want to pack in as much as possible but don't have as much time as you would like, a safari which replaces time on the road with flights between lodges is an alternative. Using light aircraft to transport you between destinations you will see Africa from the air, and will leave with your camera crammed full of pictures! 
Conclusion
An African safari comes in all sorts of shapes and sizes and by planning your perfect itinerary you
Image credits: Gunn Shots and Squeaky Marmot